If there's one European star we love to see on Camster.com, it's Amy Blair. Fans have been craving more free cam sex with this babe and she's always ready to perform.
In an exclusive interview, Amy has given insight on what she loves about being one of the most popular cam girls on the net. She also gave some enticing facts that will make your cock hard for your next sex chat live show with her! Read on for all the kinky details that will make your next camming experiencing a million times more exciting!
How long have you been camming?
I just did 1 year.
Why did you choose to be a cam model?
I found the industry interesting and a door that can be opened easily to learn new things.
When was the first time you felt successful?
After 7-8 months of working, I started to learn things and the success didn't forget me.
Was it intimidating the first time you were on webcam?
I had emotions. It was the first time when a lot of people watched me and I was afraid to not make a mistake, to not be judged for the cam model job, and to hear rude things.
What is your favorite length of show?
I love long privates. The interaction and knowing each other moment. In my opinion, this is the most important thing to develop in a future relationship.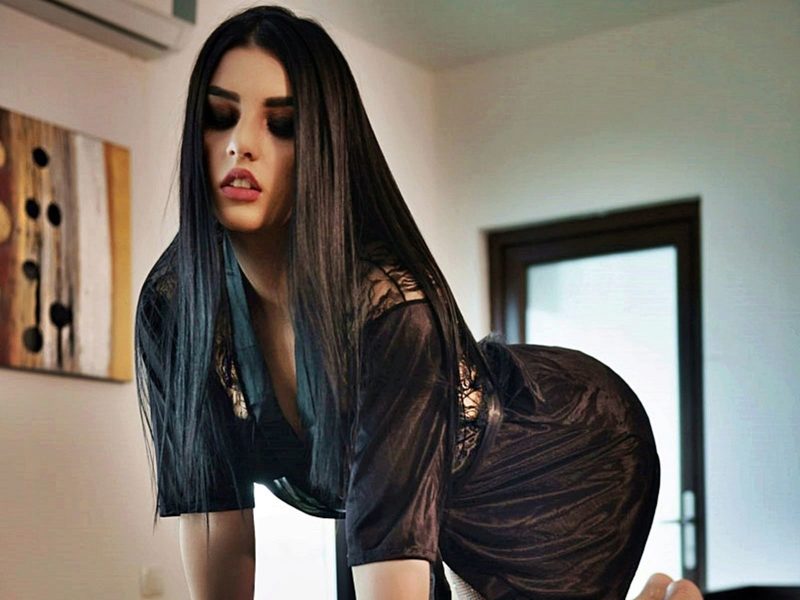 What do you wish someone would ask you in chat, but nobody does?
What hobbies I have, what I like the most, questions about things that make me happy- even sexual ones, but in a nice way.
Best way for a customer to break the ice with you?
Treat me with respect.
Outfit that gets the most responses when you wear it on cam?
The color black helped me to attract more people in my room. Special fit outfits that put value in my ass and boobs too. Also, different accessories, like a watch, bracelet and so on.
What's the next thing you plan to add to your room?
I have a plan to buy a new bed that will be warmer and more interesting for the members- romantic / naughty at the same time- plus, a new webcam.
What country has the wildest customers?
USA.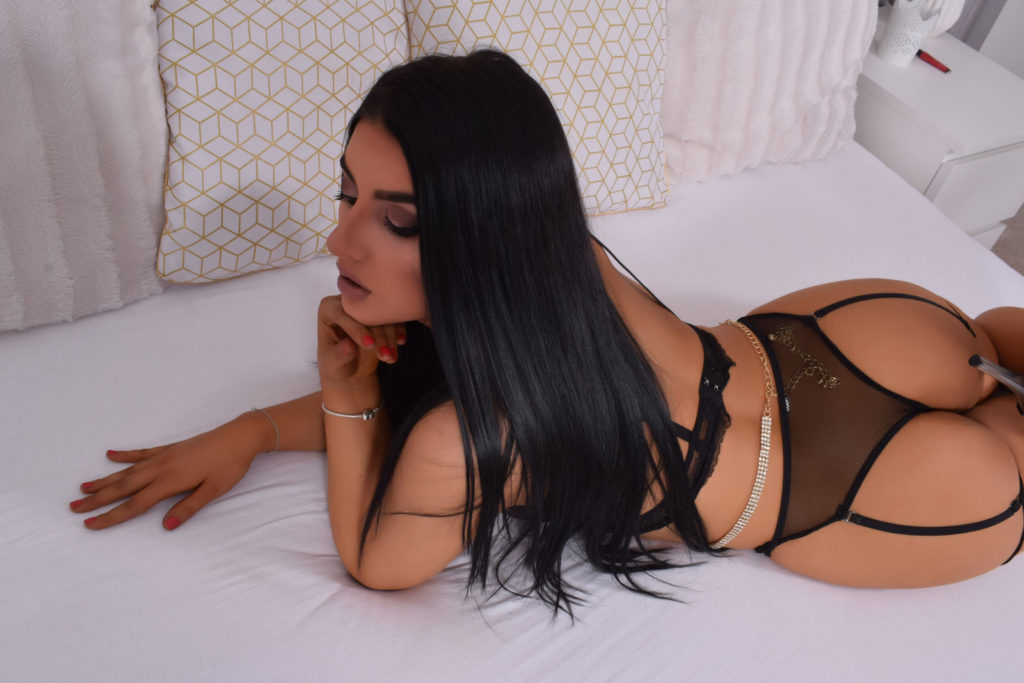 Can you recall the sexiest moment you've had while camming?
When I did my first close-up previews for one of my best customers. And when I put a cake on my body.
What have you discovered about yourself since becoming a cam superstar?
I improved my sexual skills and became a smarter woman.
What tips would you suggest for someone else who wants to be a cam superstar?
To treat the job seriously and to be involved and to not give up. Those things are key for success in this industry.
What do customers usually notice about you first?
My eyes and lips.
Who are your other favorite cam stars?
I appreciate every model. I don't have a favorite one. All girls from the site have my respect and appreciation.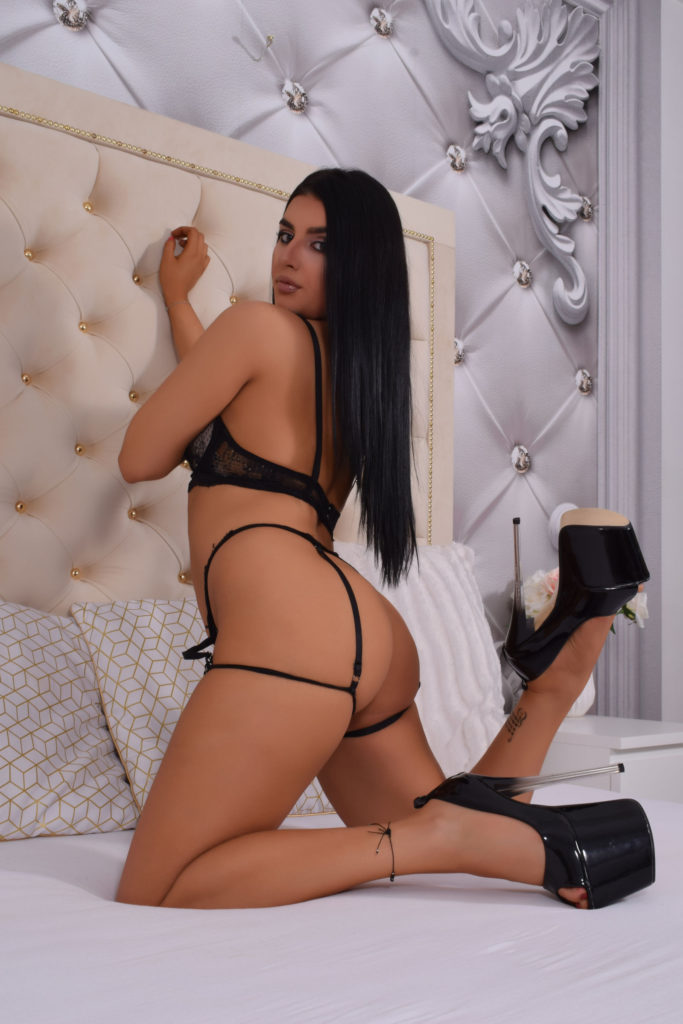 What do you love most about being a cam model?
Meeting new people, learning new things and making new friends almost every day.
What is the first thing that goes through your mind when you're about to start camming?
To have fun, of course!
What were you like before camming?
I was a shy girl who always wanted to improve everything in my skills.
How would you compare yourself from the time you started as a cam model to where you are now?
It's a big difference for sure. In the beginning, it was very hard, but with work and hours online, I gained experience and I still need to learn a lot!
What kind of shows do you have coming up?
A show from a pool or maybe from a penthouse from the mountain with a nice jacuzzi, some champagne and nice lights.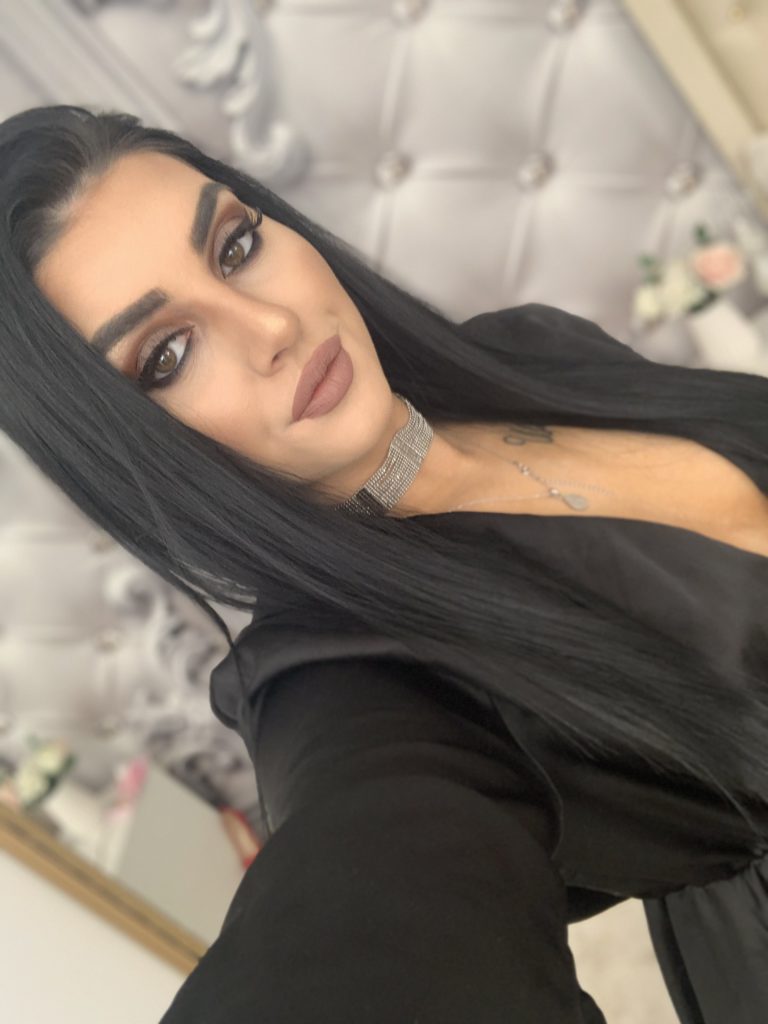 What are you proudest of?
I am proud of my evolution.
If I weren't camming, I would be a ________
Stewardess.
How many languages do you speak? Which ones?
English and a bit of Spanish.
What are your goals for the rest of 2020?
To buy my own house.
Where do you hope to be five years from now?
Making my dreams a reality.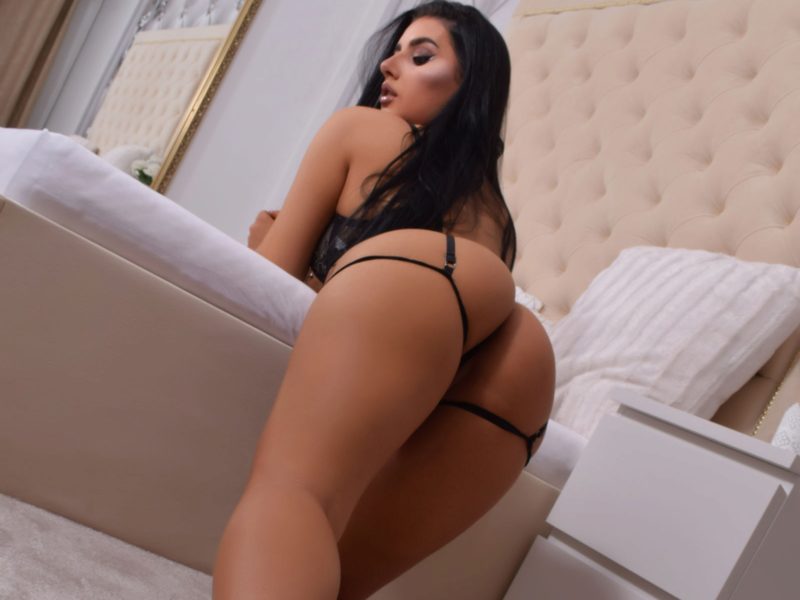 How do you keep busy in a pandemic besides camming?
Watching Netflix, reading about things from the USA, always staying current with what's happening, and staying with my lovely dog.
A trait about you that you wish customers noticed more?
My eyes, lips, and my mind. I like to see them noticing I am not only for shows or porn and can have a smart discussion about almost everything.
Favorite role play scenarios to act out?
Schoolgirl and police officer.
Physical feature you find the most attractive in another person?
To not be rude, first of all. Also, to know how to make a woman feel beautiful with compliments, a nice flirt, and so on.
Biggest turnoff a customer can do?
Get naked after 2 seconds of private.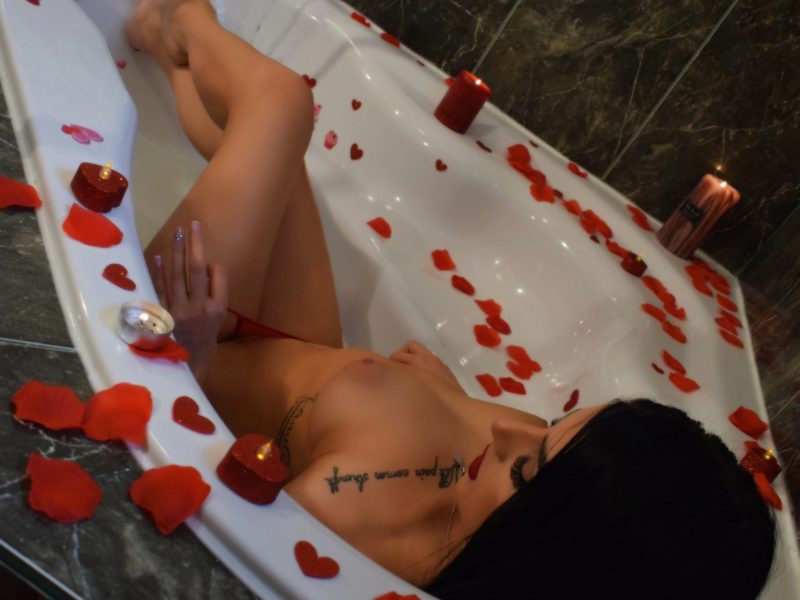 How do you stay positive when times get rough?
I think about my wishes, my desires, and my dreams. I also listen to my favorite songs.
What is something you wish you were better at?
I want to improve everything about me.
What are your tips for anyone who wants to be as beautiful as you are?
To invest time and money in herself because beauty is important to make money.
What is the best way to make you laugh?
Somebody can make me laugh very easily, even if they say one word.
What is the best way to make a dream come true?
To work for it and never give up.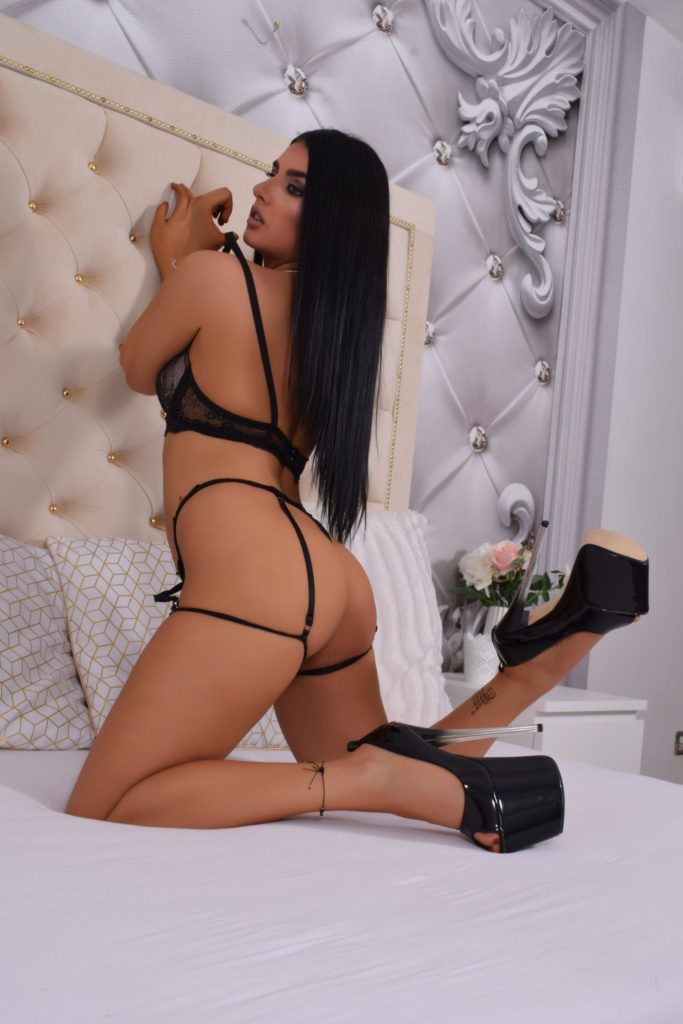 Craziest place you have had sex?
At a beach in water.
What customer trait turns you on the most?
The customer who wants to get to know each other and appreciate me as much I deserve.
Favorite toy?
Lush.
How did you lose your virginity?
At a party where I was drunk.
Favorite fetishes?
Feet.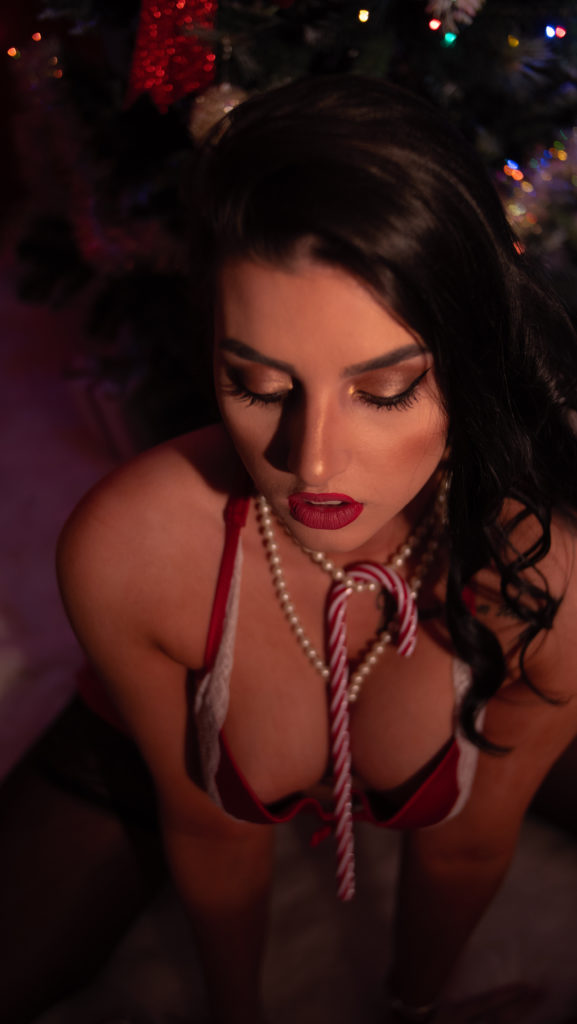 Say one sentence a customer must say to seduce you.
Something romantic like, "Your eyes sure hide something interesting and those lips say a lot of things, even when they don't move."
Favorite sex position?
Doggy.
Best blowjob tips?
Be natural.
What is the highest number of orgasms you've had in one session?
5.
Favorite kind of porn to watch?
POV.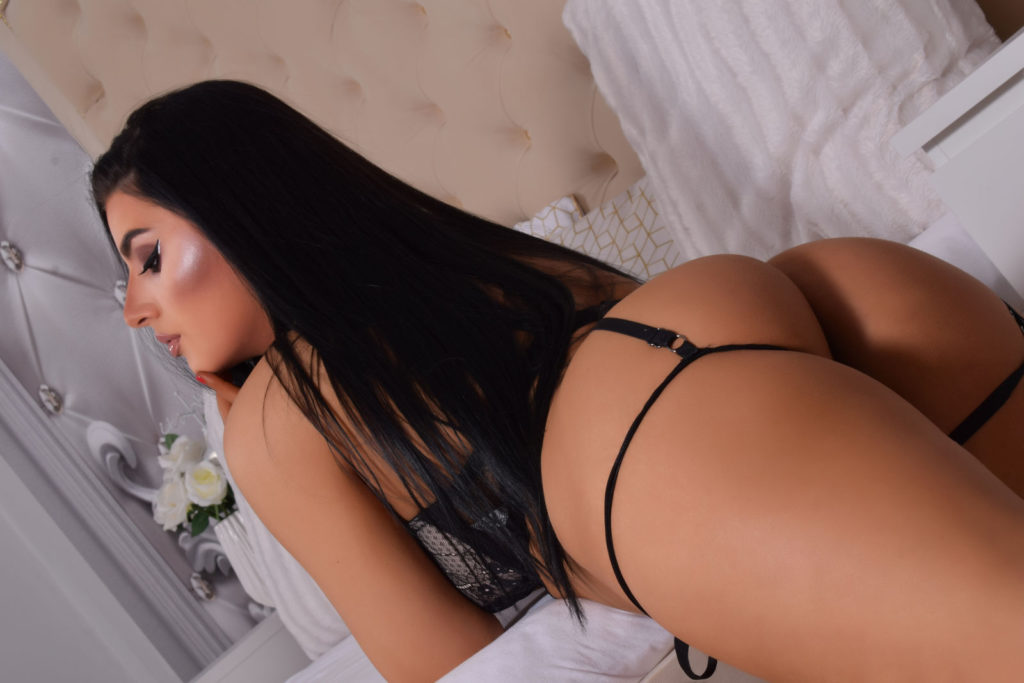 Favorite spot for your guy to cum?
In my mouth and on boobs.
Have you ever tasted your own cum?
Yes.
Tips for a stronger orgasm?
To enjoy the member as much as possible and make that connection.
Tips for how to enjoy a toy better?
To choose the right toy that will fit perfectly.
Best way to give you an orgasm?
Rough sex.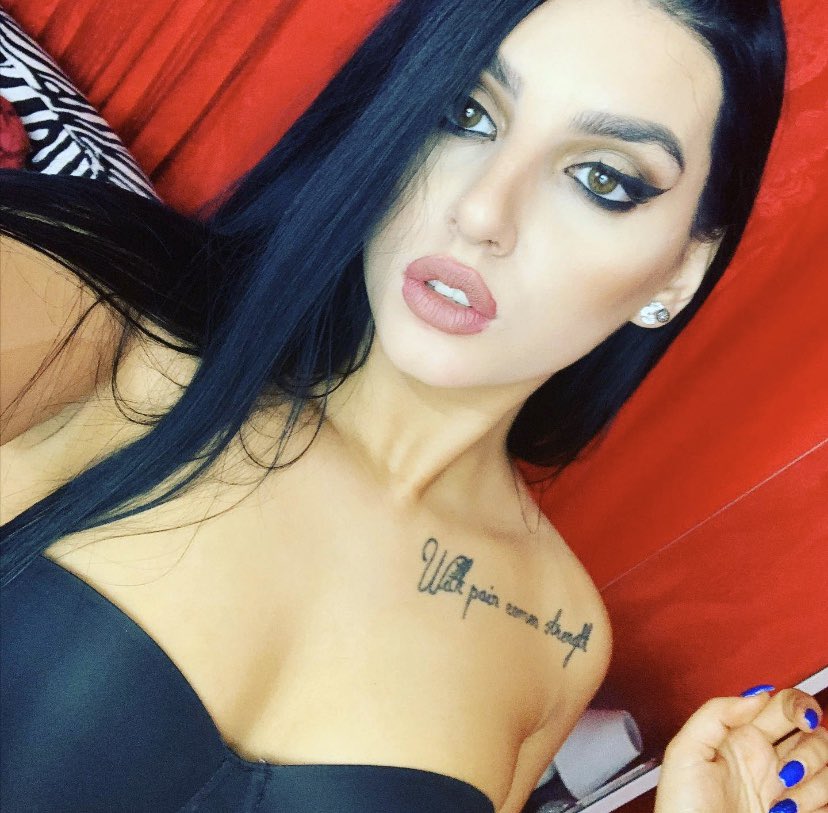 Dick size preference?
If the guy knows what to do with the dick, the size is not a problem.
Give oral or receive oral?
Give.
How did you become so good at the art of seduction?
I watched movies, read on the Internet, and watched myself in my mirror a lot of times to see my face (this is very important).
Spanking or hair pulling?
Hair pulling.
Where do you want to go most on your next vacation?
Greece.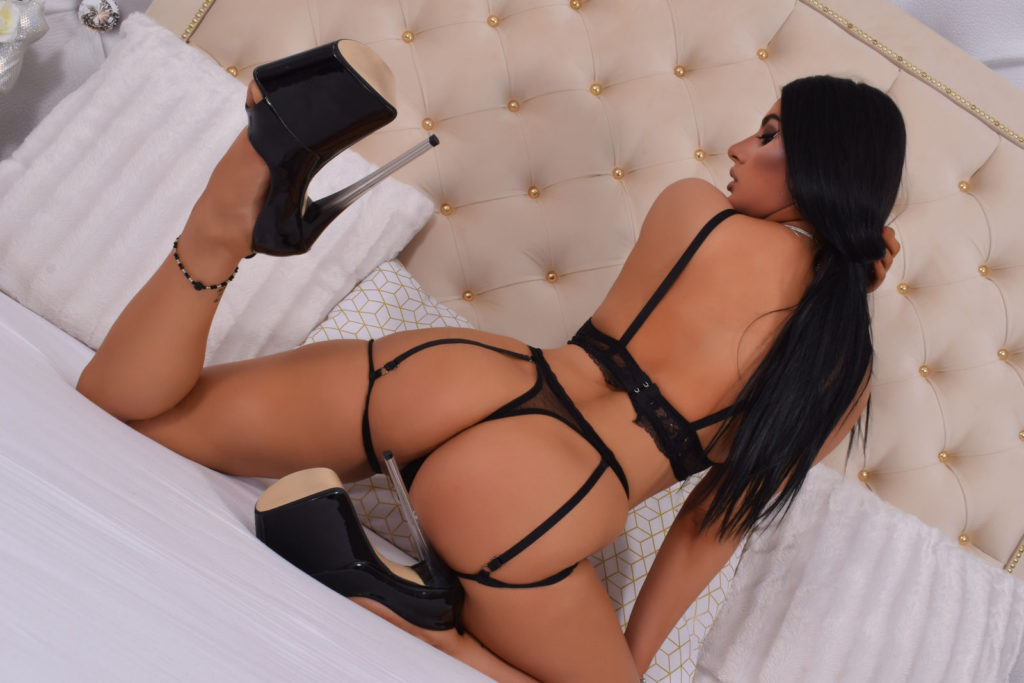 Favorite ice cream flavor?
Chocolate.
Favorite movie?
365 Days.
What does a perfect date look like to you?
To laugh, and to be appreciated for my beauty and skills in a restaurant with some red wine.
Who is your celebrity crush?
Angelina Jolie.
Favorite kind of underwear?
Thong.
Favorite holiday?
Christmas.
Favorite Disney character?
Minnie Mouse.
How many tattoos do you have?
5.
If you could have one superpower, what would it be?
To do magic tricks.
Favorite alcoholic drink?
Red wine.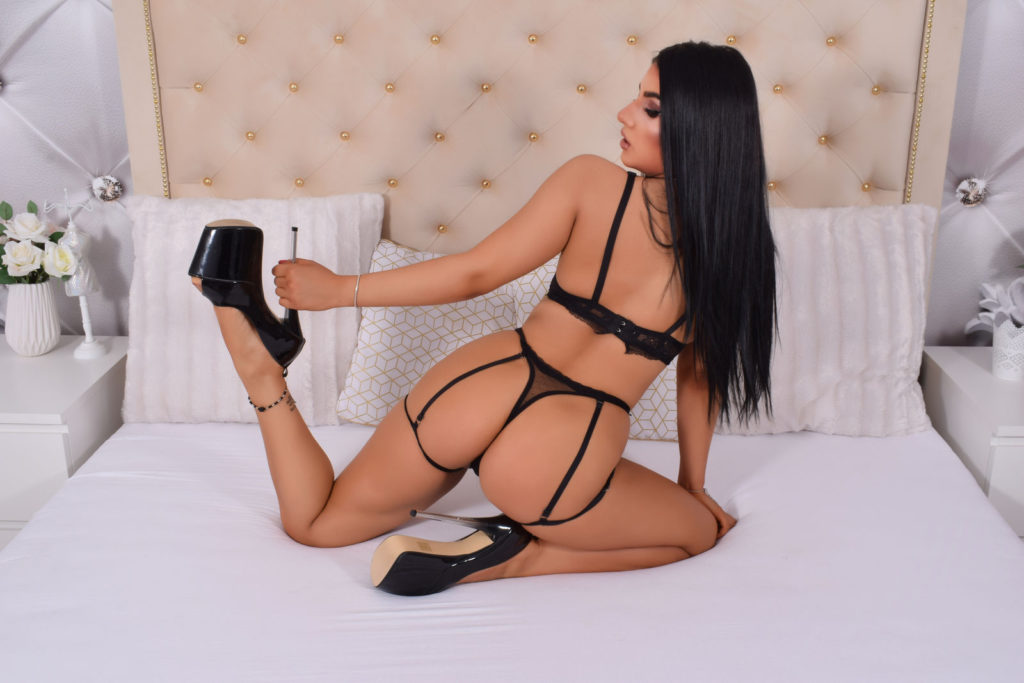 Favorite quote?
"If you can dream it, you can do it."
What TV show are you binging right now?
Homeland.
Favorite superhero?
Batman.
What is a surprising fact about you?
I'm shy.
Favorite summer activity?
To stay in bed and sleep.