Emily Sheen has been one of the most successful cam girls for nearly two years. She's gone from shy girl to frisky woman with plenty to offer in her sex chat shows! Whether it's pussy play, sugar daddy games, or humiliation, Emily has cum a long way in just two years.
This Romanian girl is now giving sexy details about life on Camster.com. In this exclusive interview, she revealed her biggest fetishes, how she connects with her clients, and her favorite sex position…let's just say if you're an ass man, then this babe is for you.
Check out Emily's interview and be sure to follow her on Twitter!
Why did you choose to become a cam model?
I chose to be a cam model in the busiest time of my life- when I was in college and didn't have enough time for a job to support myself and all fees required by the university.
What do you wish someone would ask in chat that no one asks?
I don't think there's anything I shouldn't be asked about in chat. We talk about everything! The interaction is great and I love it. People should feel free to talk about anything…
What's the first thing that goes through your mind when you're about to start camming?
The first thought that comes to me when I start camming is this: what my friends did that I missed? What good jokes will I hear today? Etc.
What do you love most about being a cam girl?
The community I have. They are friendly and nice to me, I just love being online and spending time with all!
What kind of shows do you have coming up?
I have different kinds of shows- sometimes I have moments where I want to be loved and appreciated, and sometimes I play naughty and kinky! Depends on my mood and the atmosphere in my room!
If I weren't camming, I would be a ____
I would definitely continue my career as a home seller!
What are your goals for the rest of 2020?
My goal for the rest of 2020 is to finish in the top 10 to FOTY Romania Region! This is my big goal!
What is the best way for a customer to seduce you?
The best way to seduce me is to be himself, but also have a sense of humor that will surely seduce me!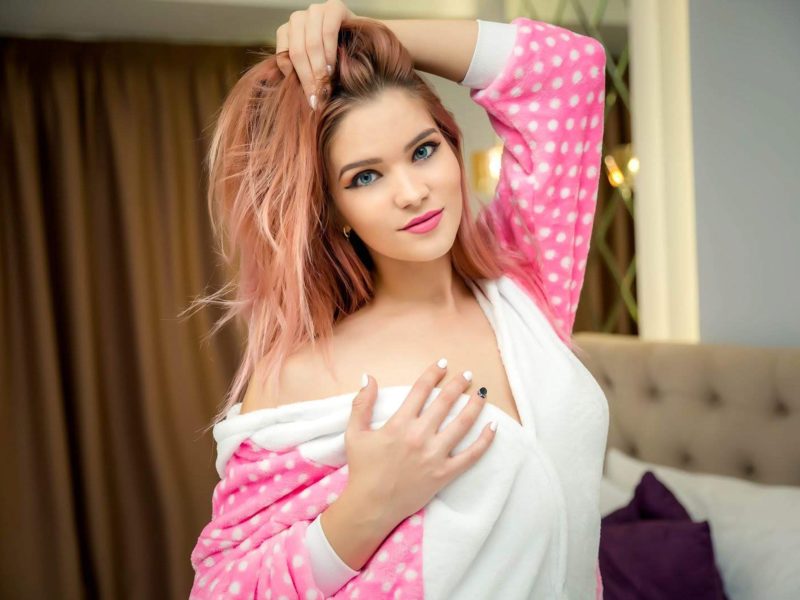 What is the highest number of orgasms you've had in one session?
Oh my… the highest number of orgasms I have had… hmm, I didn't count them, but it was over 5 in a very hot show that is impossible to forget!
Favorite toy?
Favorite toy… I love Ohmibod but I love it more when I use Ohmibod with Wevibe toy- both are awesome!
Favorite Fetishes?
I love roleplay, cuckolding, discipline, face sitting, feet, costumes, small penis humiliation, and sugar daddy.
Favorite sex position?
Doggy style!
What does a perfect date look like to you?
A perfect date…hmmm, flowers, a beautiful and intimate place, and a lot of chocolate!
What country has the wildest customers?
I don't think that has to do with where you come from, each of us has a wild side!
How would you compare yourself from the time you started camming to where you are now?
There is a big difference between when I started and now. I feel much freer and I can express myself much easier and I'm less shy now!
What is the best way to make you laugh?
Funny jokes and funny events make me laugh a lot!
Ever masturbated in a public place?
YES!
Tips for a stronger orgasm?
Bigger tips make me cum so strong like a fountain. I can remember the orgasms I had for 10k credits, wow just amazing! Who knows, maybe we will have a new record of orgasms soon!
Favorite roleplay scenarios?
Sugar daddy-sugar baby, student and teacher, and I love boss and secretary!
Favorite kind of underwear?
I love bodysuits and lace!
Favorite quote?
"It doesn't matter where you are coming from, all that matters is where you are going!"
What is your spirit animal?
Cats are my spirit animals! They are so sweet and adorable!
Favorite hobbies?
I like to spend a lot of time reading, especially on rainy autumn days!